Ratiba Ayadi is a multimedia and performance artist whose work takes on forms of spiritual and physical practice, by using the body to examine the relationship between consciousness and the purpose of human existence. By these means, her body becomes a vessel with which to explore the quiddities of every-day life when balanced with the possibilities of the alternate, divine world. There is no order- only fragments- and those fragments exist somewhere in space whether that be non-sensical and in-between. Her alchemic-like-work displays as a guided, meditated, ritual-like experience. A mute visual environment host by a sonic hologram challenges the construct of experiential understanding and contemplation. A gentle introduction to the end of the beginning. Through romantic wordplay, ambient soundscapes and frequencies, she -the silent songstress- voyages along an uncertain and uncharted road.
Contact info.
Email: ratibaayadiart@gmail.com
Student at Kingston University, Graduating 2022.
Lives & Works In London & South West.
Selected Group Exhibitions:
2021 unify n uplift, Online Exhibition Curated By Antonio Chikhungu
2020 soapworks, centre of gravity bristol: Gardiner Haskins, Bristol
2019 collaboration,
the calling of the capstone: 'keep the fire burning' ,
No Format Gallery, Deptford X Festival, London
2019
book-ish,
Stanley Picker Gallery, London
2019
sustain,
Avionics, London
2018
voiceover: bill leslie presentation,
Pratt Insitute, New York
Experience:
2020/21 'Radio Arts Catalyst: The School of Broadcasting' with artist Evan Ifekayo, Online

2020 'recently deleted, other albums and camera roll' with Randa Mirza and Lara Tabet:
Salzburg Summer Academy of Fine Arts, Online
2020 'virtual walk in centre for womxn of colour':
1020radio, Guest Mix, Bristol
2020 'karaokeboothforone with tim wolf':
RTM.fm
: Guest Mix, Thamesmead
2019
inventory of behaviours
,
Tate Modern, London
2019 '
reflect, remember, reclaim, heal': assisted Zethu Maseko,
ICA, London
2019
dont we all play the same?: Bill Leslie,
T
ate Modern, London
Projects:
2020 ongoing,
dans(e) la chambre,
every bedroom technology will allow: with permission
2019 ongoing,
a particular reality,
collaborative with Goldsmiths & Kingston University, London
Model/Performance Work:
2021 voiceover, 'To Shake and Disturb and Bring Us Back to Ourselves', Film by Rhianna Bonterre
2020 model/performance,
The Idles: 'War' Music Video,
London
2019 model/performance,
'God Life: Modern House On Land Outside Game Table': Susan Cianciolo,
South London Gallery, London
2019 model
CSM: Material Future's,
Rosie Broadhead, London
︎ Instagram
︎ Twitter
︎ SoundCloud
This path was not composed by me.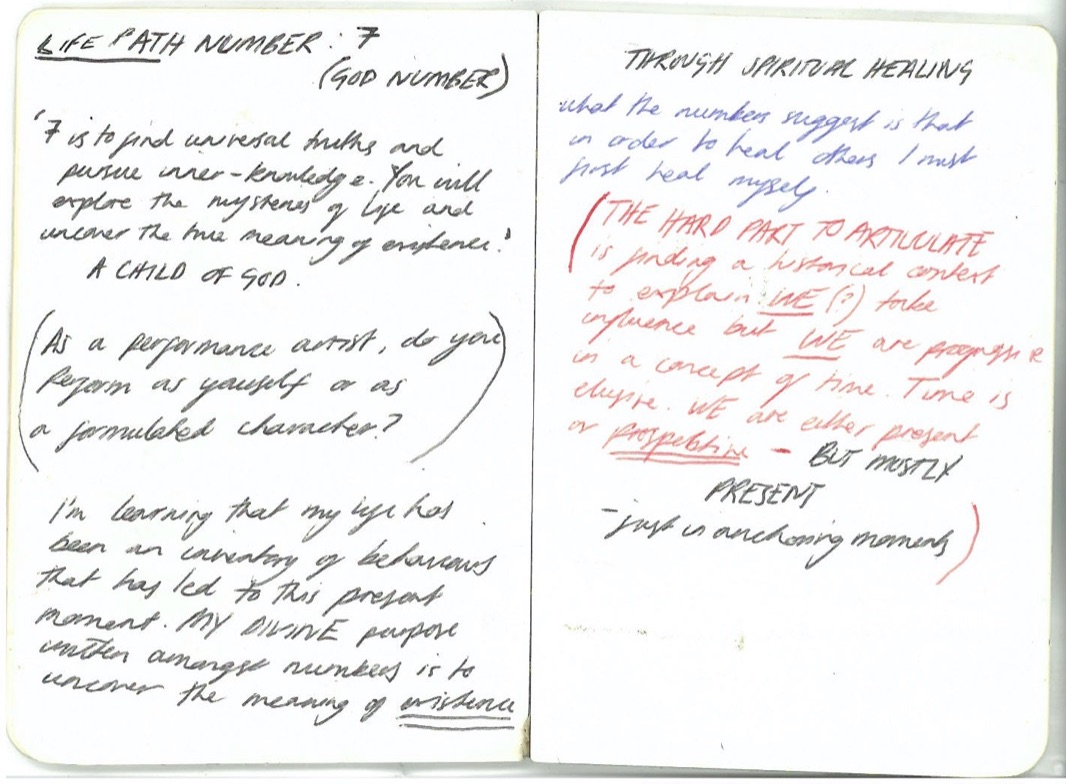 Numerology Information Sourced from Cafe Astrology, 2019.